The 2022 ESL Pro Tour will host over 25+ tournaments during the calendar year. We are announcing our entire 2022 plans, consistently back on LAN, the return of audiences across the globe and tickets are back on sale for IEM Katowice '22 & IEM Cologne '22.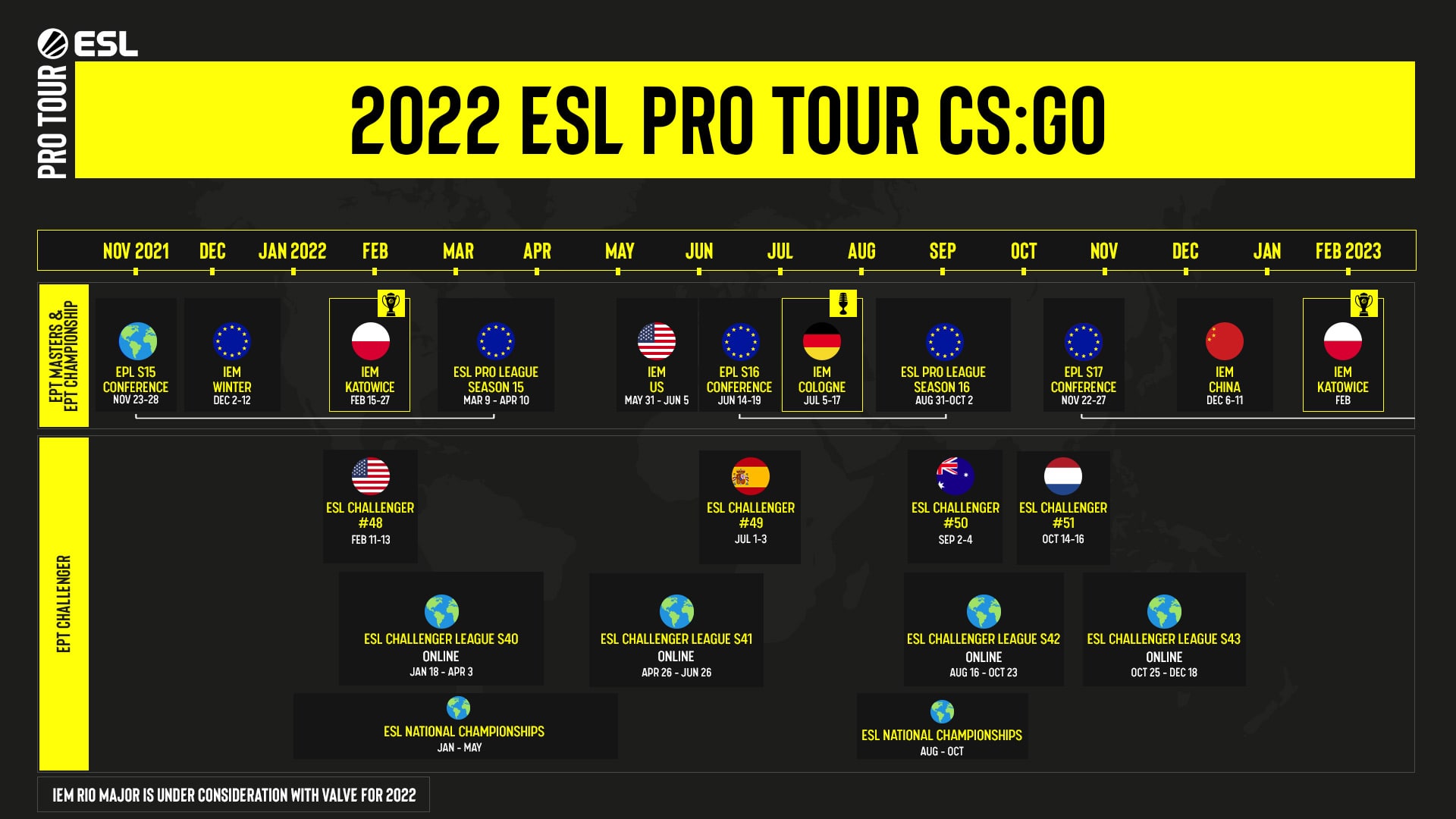 ---
Key Takeaways
2022 features 25+ Competitions

Two EPT Championships: IEM Katowice & IEM Cologne
Five EPT Masters tournaments (incl. ESL Pro League)
Four ESL Challenger tournaments
Four ESL Challenger League seasons
Ten+ ESL National Championships
LAN & Live audiences return for the EPT Masters & Championship events.
Tickets for IEM Katowice and IEM Cologne available soon (& more to come)!
ESL Pro League becomes the new way to the top for all EPT Challenger tournaments
Starting in 2022, DreamHack Open will be renamed to ESL Challenger and ESEA Premier to ESL Challenger League.
---
LAN & Live audiences return for the EPT Masters & Championship events
In 2022 we plan for every EPT Masters and EPT Championship event to take place on LAN. We also want those events to include fans, in line with the local Covid restrictions.
Tickets for IEM Katowice 2022 (February 15-27) & IEM Cologne (July 5-17) will be made available for purchase very soon.
If you are interested in tickets, make sure to monitor our social media channels closely in the next few days. Seats available are limited during the first ticket drop.
Tickets to our other events will be announced at a later date.
---
ESL Pro Tour Masters & Championship Tournaments Dates
ESL Pro League Season 15: Nov 23 – 28, 2021 & Mar 9 – Apr 10, 2022
IEM US: May 31 – Jun 5, 2022
ESL Pro League Season 16: Jun 14 – 19 & Aug 31 – Oct 2, 2022
IEM Cologne: Jul 5 – 17, 2022
ESL Pro League Season 17: Nov 22 – 27, 2022
IEM China: Dec 6 – 11, 2022
---
ESL Pro Tour – The New Way to the Top
With the goal of making the ESL Pro Tour advancement path clearer, all EPT Challenger level competitions will qualify into ESL Pro League. A new stage of EPL has been created to facilitate this change, called the EPL Conference. We will be providing full details on ESL Pro League's new format on Sept 16th at 14:00 CEST.
---
ESL Challenger & Challenger League
In line with the overarching goal of simplification, we've changed the naming convention of our competitions. Tournaments that are highly competitive in nature and are on the pathway to EPT Championships will operate under the ESL naming from 2022.
ESL Challenger – DH Open
ESL Challenger League – ESEA Premier League
ESL Challenger competitions stated to take place in the US, Spain, Australia & the Netherlands are planned to take place on LAN in conjunction with DreamHack Festivals, this will include a live audience. All events will be subject to local COVID-19 restrictions to ensure a safe event for all participants, staff and fans attending.
---
IEM Rio Major
The tournament is under consideration with Valve for 2022. For all fans concerned about the validity of their tickets, we guarantee that previously purchased tickets remain valid and when Rio comes around you have your ticket ready-to-go.
---
The 2021 ESL Pro Tour still has many competitions remaining as we continue the road to the IEM Katowice 2022.

Be sure to keep an eye open for both exciting and vital changes to the ESL Pro League format on Sept 16th at 14:00 CEST, we will update you both on the ESL Pro Tour CS:GO website and our Twitter!