Last week, we announced that the prize pool for the Halo Championship Series Season 1 Finals had doubled. With eight teams to play for the event's massive US$100,000 prize pool at PAX East in Boston from the 6th to the 8th of March, we are pleased to be able to announce who exactly will be taking to the field.
The competitor lineup for the Halo Championship Series Season 1 Finals will be as follows:
Evil Geniuses – Lunchbox | Lxthul | Roy | Snipedown (Coach: Towey)
Counter Logic Gaming – Royal 2 | Heinz | Ogre2 | Snakebite (Coach: Royal 1)
Denial eSports – Mikwen | Cloud | Ryanoob | Chig (Coach: Spikemouth)
OpTic Gaming – Flamesword | Ace | Assault | ContrA (Coach: TBA)
Cloud 9 – Ninja | FearItSelf | Hysteria | Victory X (Coach: Symbolic)
Str8 Rippin – Tsquared | Legit | Naded | str8sick (Coach: Lammie)
eLevate – Munoz | Gabriel | Spartan | shooter (Coach: SwiftKill)
Noble Black – Arkanum | APG | Aries | MaNiaC (Coach: Clutch)
TGN Vibe – Chalkie | Ramirez | Septic | BlackJack (Coach: Xavi)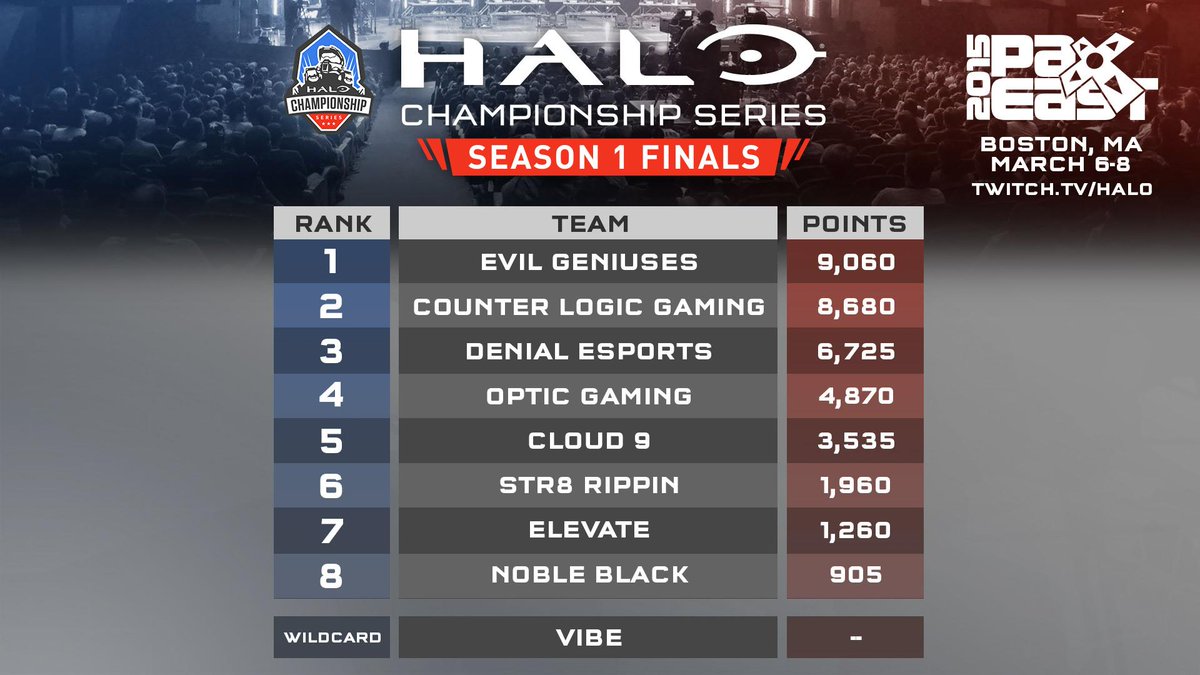 This weekend, the the last Halo Championship Series sanctioned LAN event, the Gamers for Giving LAN, took place. Evil Geniuses came out on top and jumped from third to first place in the season standings, thus making them the first seed in the the Season 1 Finals. Neither Str8 Rippin nor Noble Black managed to place in the top eight here, but at the end of the day still had enough points to go to season finals
European competitor TGN Vibe is certainly an accomplished team, with former TCM Gaming members Chalkie and Ramirez having won the showdown at gamescom last year as well as placing fourth at the PAX Prime showdown, seventh/eighth at the Launch Invitational and winning the EGL Battle of Europe Halo Championship Qualifier as the wildcard. If they win their best of five play-in match against Noble Black, TGN Vibe will come up against Evil Geniuses, a matchup not to be taken lightly.
A tournament wouldn't be a tournament without a great hosting and commentary crew, and so these teams' exciting matches will be being brought to you by the following star-studded lineup:
The Halo Championship Series Season 1 Finals will run from 10:00 EST from Friday March the 6th to Sunday the 8th, kicking off at 10:00 EST, so be sure to tune in live at Twitch.tv/halo if you won't be at PAX East in person!
For more information about the Halo Championship Series Season 1 Finals, be sure to check out our previous post as well as follow the ESL Halo Facebook page and Twitter – keep an eye on the #HCS hashtag!