After an exciting eight week ESL Hearthstone Legendary Series, the epic conclusion is upon us. The finals will take place one week from now, with the eight impressive finalists facing off, after having battled throughout the season to qualify.
The Finalists
The ESL Hearthstone Legendary Series finals will feature a diverse mix of veterans and newcomers competing for the US$20,000 prize pool. Eight players have managed to set themselves apart from the bunch after an entertaining season and qualified for the finals as shown below.
Qualified as first place winners of weeks five, six, seven and eight:
Qualified as top four players in the rankings after week eight:
PinPingHo

SilentStorm

Weifu
The Casters
The tried and true caster team of Dan "Frodan" Chou and TJ "Azumo" Sanders will be back for the finals in Burbank and provide knowledgeable insights and entertaining commentary throughout the tournament. This time around, they will be accompanied by player such as Andrey "Reynad" Yanyuk and other pros, who will provide in depth analysis during the matches.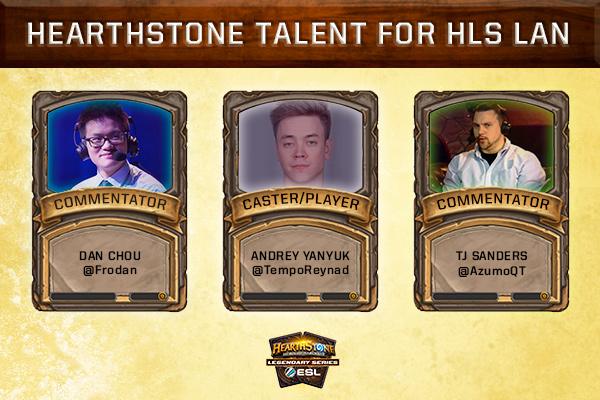 You can still get yourself a ticket to attend the event in Burbank on February 21st-22nd. Our ESL studios will be hosting the finals and free drinks are provided throughout the weekend.
Just purchase your day pass or weekend ticket below.
Who's your favorite to take it all? Let us know in the comment section below. And don't forget to tune in next weekend!