The technical alpha is over – it's time for Heroes of the Storm to take on new life with the closed beta as a whole new wave of players take to the Nexus and battle.
How Heroes of the Storm works
I often hear a lot of opinions that compare Heroes very heavily with other well-established MOBA titles. While the game is indeed 5v5, it's important to understand the major differences and influences that can occur during the course of a game as well as what makes Heroes stand out as more than just a traditional MOBA.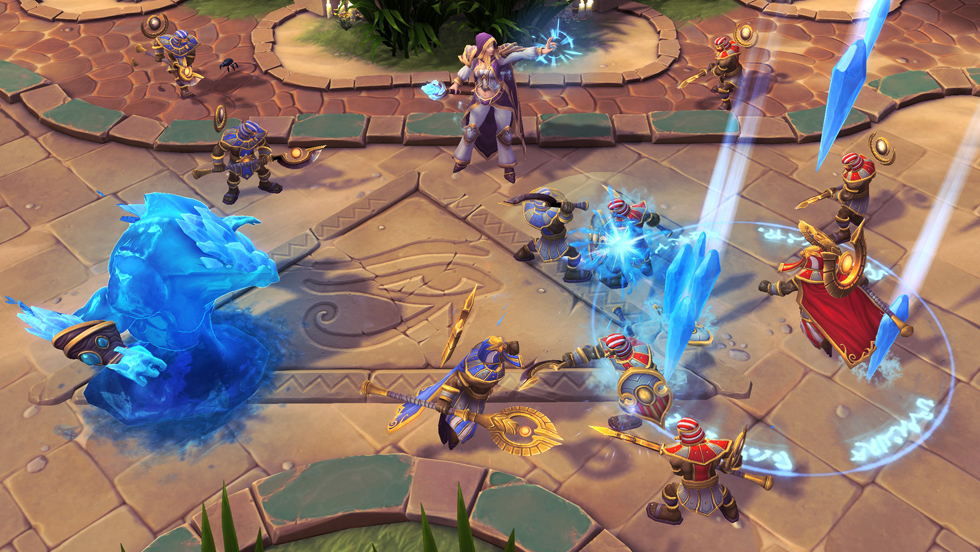 In fact, I would go as far as to say that comparing the true mechanics to those of titles perceived as similar is a mistake, as Heroes places itself in a completely separate and yet-to-be-fully-explored category entirely.
If you've just been invited to the closed beta, congratulations! Let's keep this simple and go over the basics that you may or may not already know just to get the ball rolling:
Your team shares levels – all experience gained across the map contributes to overall team success and progression
No need for last hitting – but minions in lane still award XP, thus 'soaking' the experience at opportune moments is required
Each map has mercenary camps – these can be captured after being defeated to boost your pushing power
Each map has different secondary objectives – these have an influence on pushing power in different lanes, but are heavily contested, often causing teamfights (e.g. collect skulls to power up your golem on Haunted Mines)
Push down the walls, push down the forts, push down the core!
In later articles, we can talk in more depth about specific heroes as well as maps as there is a huge amount of diversity to be discussed.
How Heroes of the Storm esports are shaping up
The landscape of Heroes as an esport is being shaped right now.
During the alpha, great strides forward were taken to establish teams, shows, communication between aspiring commentators and much more. Websites offering guides and news already provide great insight into how you can implement strong builds into your own play, and community initiatives have even sprung up in order to establish a more visible MMR system.
There is a very passionate group of people who have placed themselves at the forefront of Heroes of the Storm community already, and with the closed beta now here, this will only strengthen as more and more people are able to play the game.
If you've been following other esports in the past, there may be a few names that are familiar to you both in the form of the teams competing and the faces when it comes to talent. Many pro players from other games have migrated to Heroes after having enjoyed the alpha and the challenges the game provides. For example, from a StarCraft II background VortiX, LucifroN and other ex-players have taken up the Heroes challenge and are doing extremely well in the fledgling European circuit under the name El Nexo.
In Europe, the Heroes Champions League is currently ongoing. Many are considering it the first sizeable Heroes tournament in Europe, with US$2,500 up for grabs in total. El Nexo actually sit at the top of the leaderboard here at the moment, but the competition is far from over. ESL's own Go4Heroes tournaments have also been running, which will eventually lead to the ESL Major Series, where the top eight teams will qualify and compete for a US$4,200 prize pool.
As a Blizzard fan myself and avid player of all their titles so far, I'm personally looking to take on Heroes commentary with the upcoming tournaments – here's hoping to see you on the field!