Four days, 32 groups, 320 survivors. It has been an action packed week in the European Qualifiers for the PUBG Global Invitational 2018. With hundreds of aspiring teams signing up, ranging from first-time squads to seasoned veterans of the competitive scene, the cards were shuffled anew. Let's find out which teams are still in the running for the lion's share of the $100,00 prize pool and the three coveted invite spots to the PGI 2018.
A number of well known faces and organisations dove right into the fray over the past days and they did not disappoint. Team Liquid, Team Kinguin, Digital Chaos, FaZe Clan, Rogue, Team Vitality – those are just some of the teams that we're used to seeing at highest level of play and they showed off their experience by dominating their respective lobbies. FaZe most of all continued to deliver, finishing with the highest point and kill count of the Ro640 – 2885 points to go with 77 kills.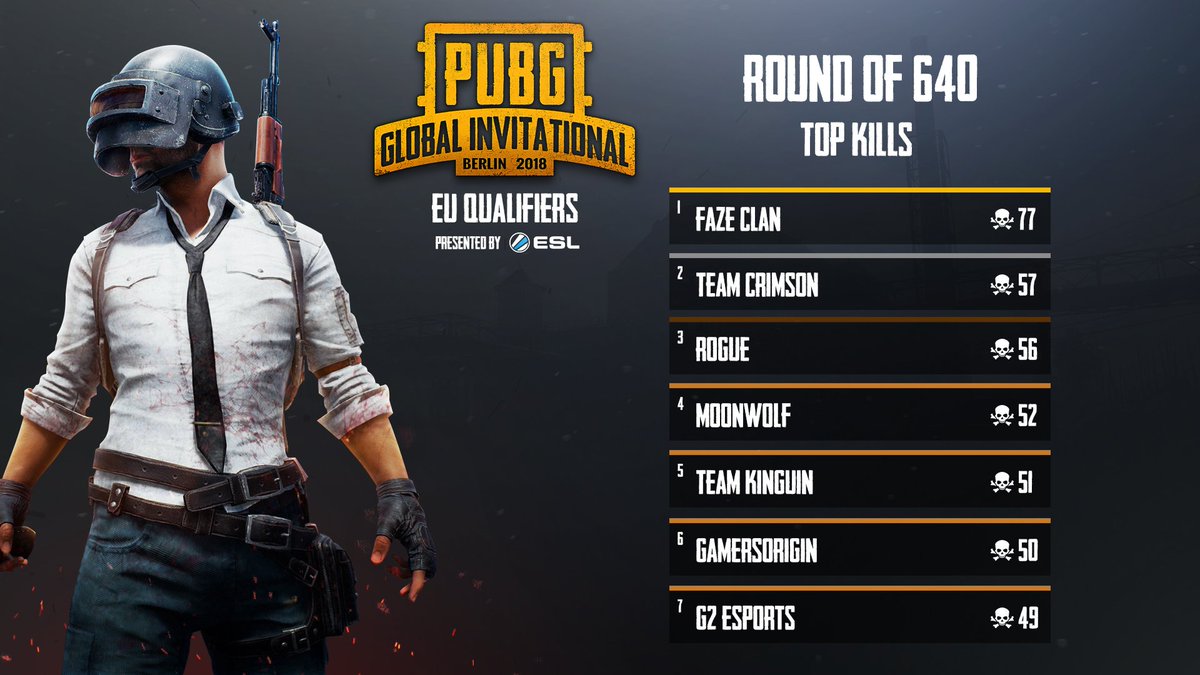 You can check out the detailed stats for each group and each played match right here.
And the teams didn't have to finish in first place to go home happy. With 10 teams per group advancing to the next round, there are still plenty of chances for upsets, improvements and record-breaking performances in the Round-of-320 where we're bound to witness some drama. Only the top 5 teams will advance from the next round and thanks to groups becoming more and more stacked as the tournament goes on it won't take long for first fan favorites to bite the dust. But which teams will have to bite the bullet?
The groups for Round 2 of the EU Qualifiers have already been drawn, so you can familiarize yourself with the lay of the land before the action continues on Monday, May 14th. We'll be streaming the rest of the tournament from twitch.tv/esl_pubg, and be sure to follow @ESLPUBG for live coverage and tournament updates.