ESL PUBG Masters Americas is back! This has already been a fantastic year for PUBG Esports and last season saw the best we've seen yet. Now we're back, with Phase 2. The potential for new teams, and new opportunities, will you rise to the challenge?
Register Here: Registration
Find out more: Yearly Format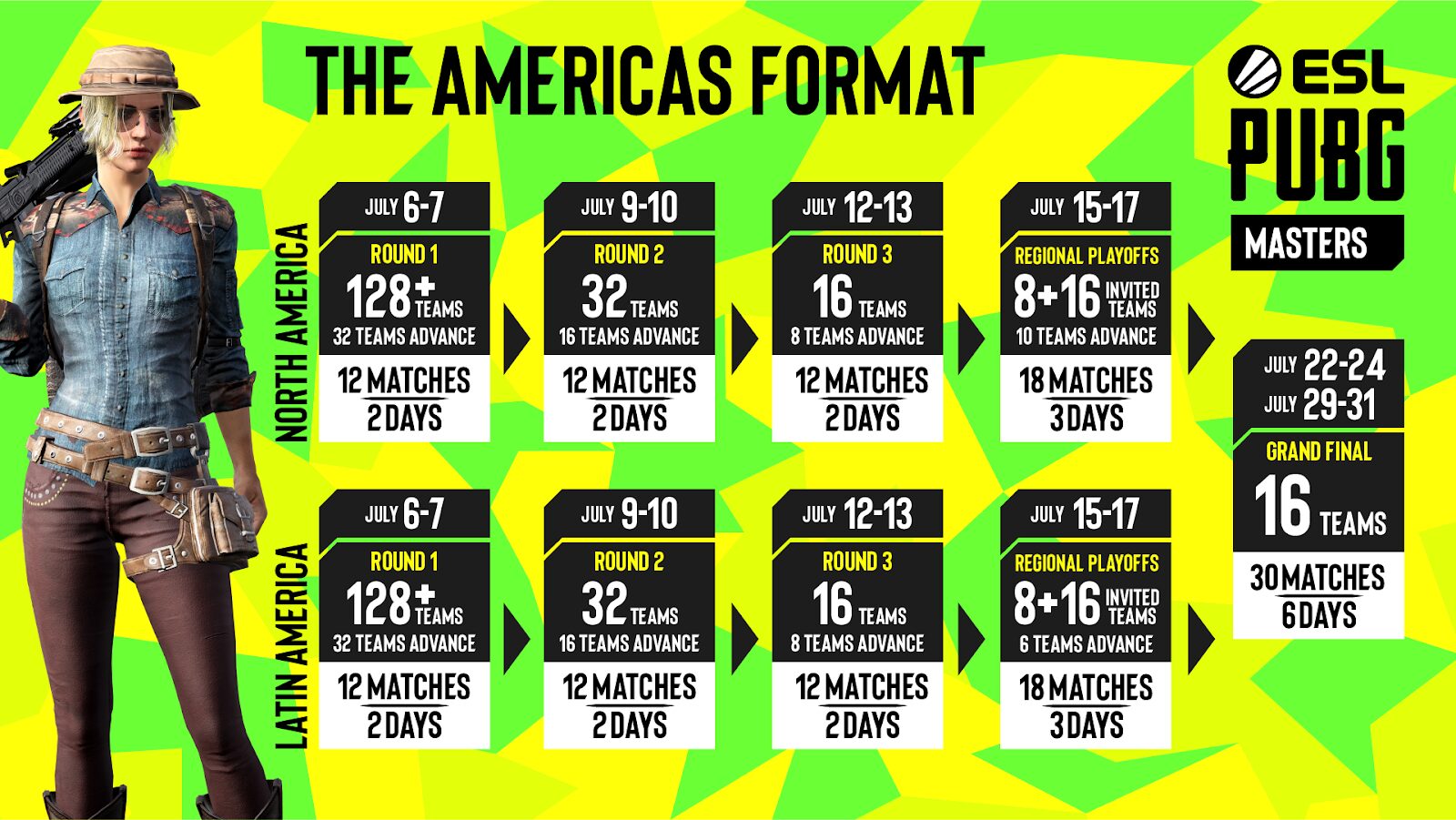 ESL PUBG Masters Americas – 2022 Phase 2
ESL PUBG Masters Americas Phase 2 will be broken down into three stages: Open Qualifiers, Regional Playoffs, and the Grand Final.
The Open Qualifiers will be held separately for each sub-region (NA & LATAM) and support up to 160 teams. Each round will last for 2 days with 6 matches each day (12 total matches per round). Depending on the total number of registered teams, there will be 3 or 4 rounds total. If 4 rounds are needed, the Round of 128 and Round of 64 will each be 1 day of 6 matches. The Round of 32 and Round of 16 will be 2 days of 6 matches each day regardless of the number of registered teams.
Dates for Open Qualifiers:
Round 1 – July 6th & 7th

If a Round of 128 is needed:

Round of 128 – July 6th
Round of 64 – July 7th

Round 2 – July 9th & 10th
Round 3 – July 12th & 13th
Upon completion of the Round of 16, the top 8 teams from each sub-region will move to their respective Regional Playoff. There, they will find themselves competing against 16 teams who have been invited based on their performance at PCS6 Americas. If, for any reason, an invited team does not meet eligibility, roster requirements, or any other rules set out in the Rulebook, that team will be replaced by the next best team from the Round of 16 that meets the requirements. The 24 teams from the Regional Playoff will be divided into 3 groups of 8. Each group will play the others over the course of a 6-match day, making the Regional Playoff a 3 day event.
Dates for Regional Playoffs:
Match Day 1 – Group A vs. Group B – Friday, July 15th
Match Day 2 – Group B vs. Group C – Saturday, July 16th
Match Day 3 – Group C vs. Group A – Sunday, July 17th
*Group Matchups are subject to change
Teams will be scored on a cumulative leaderboard with the top 10 teams from the NA Regional Playoff leaderboard and top 6 teams from the LATAM Regional Playoff leaderboard moving on to the ESL PUBG Masters Americas Phase 1 Grand Final. The 10/6 team breakdown is based on the results of the PCS6 Americas Last Chance Qualifier (PCS6 LCQ). Further explanation can be found in the Rulebook.
Once the final 16 teams are set, they will battle it out over the course of a two-week period consisting of 3 match days per week and 5 matches per day (30 matches total). The Grand Final will use the SUPER Point Rule scoring system and have one cumulative leaderboard spanning all 30 matches to determine who will claim their share of the $50,000 in prize money and those all-important PGC Qualification Points.
Grand Final Dates:
Week 1: Friday, July 22th to Sunday, July 24th
Week 2: Friday, July 29th to Sunday, July 31st
Rules to note:
The full Rulebook can be found here, and all participants should read and understand the rules fully before participating. However, we wanted to highlight one rule to note – all invited teams to the ESL PUBG Masters Americas Phase 2 are required to maintain at least 50% of their Core Roster from the PCS6 Americas Grand Final. For more information and details on this Rule, please visit the Rulebook.
Prize Pool & PGC Points Breakdown
The total Prize Pool of $50,000 is broken down as follows: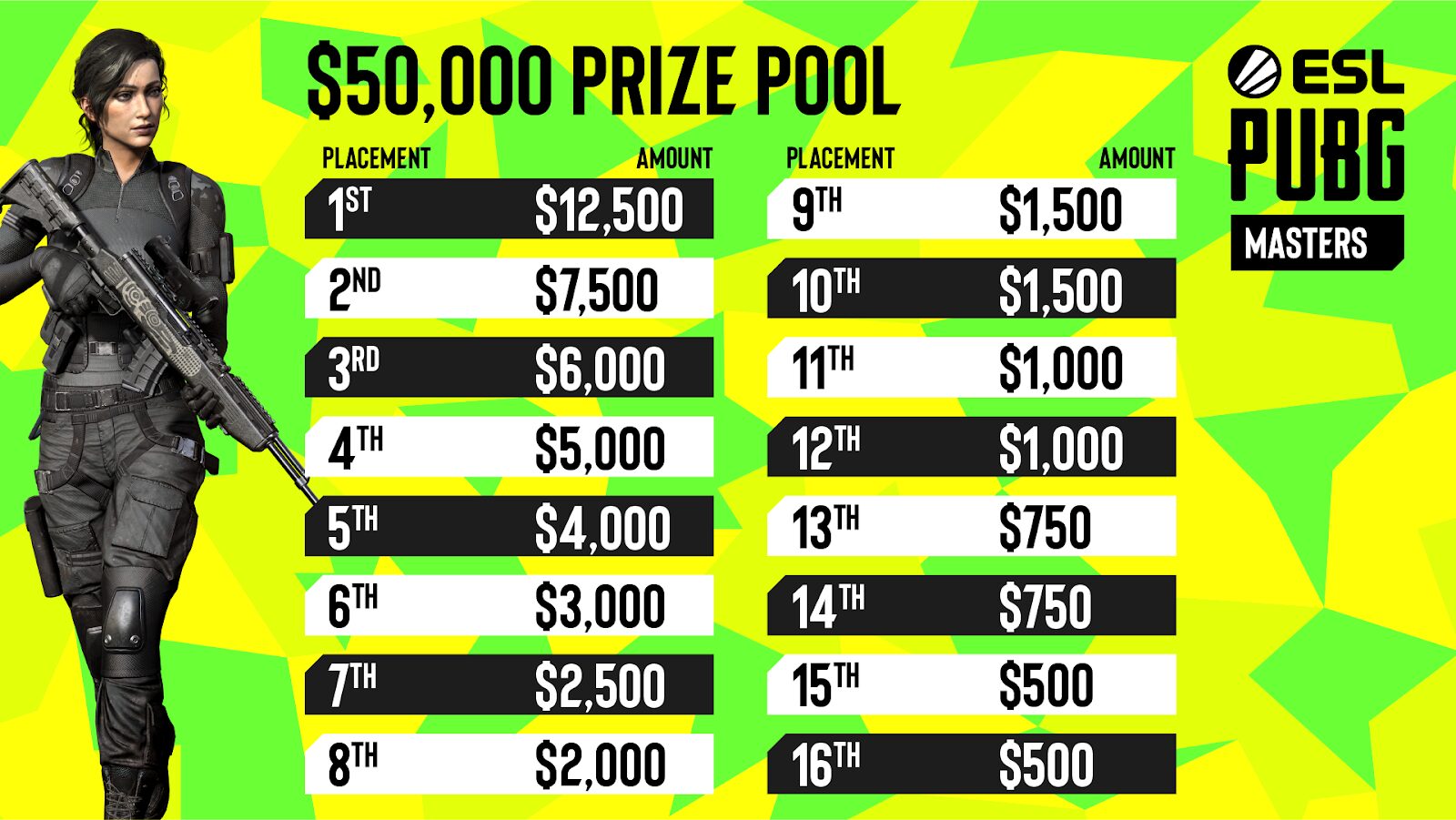 With several teams still in the hunt for PGC, the crown jewels of ESL Phase 2 are PGC Qualification Points. Collecting these points and being at the top of the PGC Points Leaderboard is the only way for your squad to qualify for PGC 2022 in November. With a 400 point boost from Phase 1, Phase 2 raises the stakes considerably. The full point distribution for 2022 can be found below: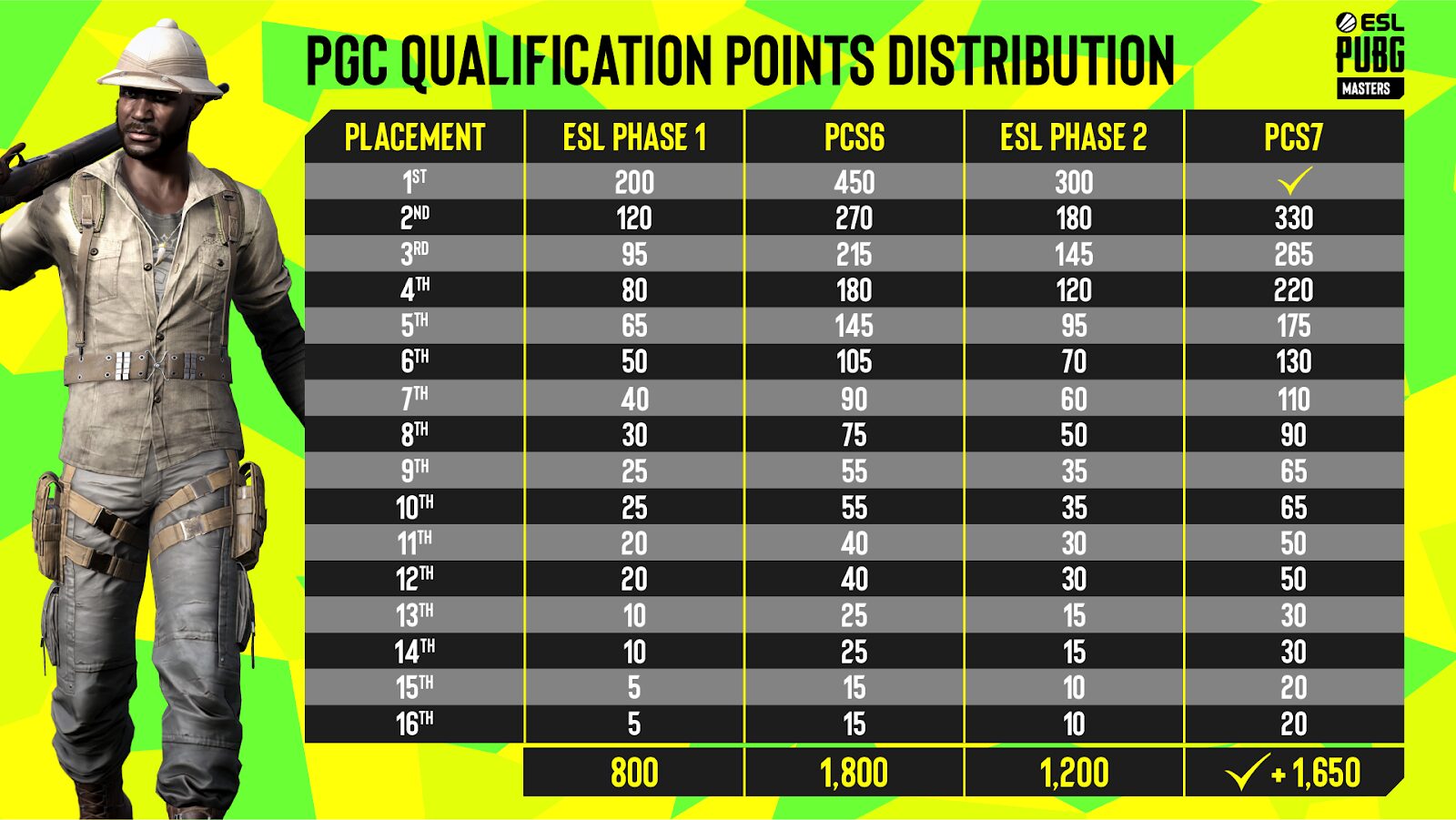 We're excited to be back with Phase 2 – to ensure you don't miss out on any of the action, be sure to stay up to date on Twitter and Instagram.
Don't miss any of the streams on our Twitch Channel!
See you on the Battlegrounds!