20 teams of 4 players competed in 8 intense battle royale matches to take home glory, pride and their share of the $200,000 prize pool this past weekend at IEM Oakland. Vehicles detonated, barrages of grenades were thrown and the body count on Erangel continues to grow as we get our first taste of the highest level of competition in PlayerUnknown's Battlegrounds.
Of those 20 teams, 8 had to qualify through a vicious and fierce series of online tournaments on ESL Play, triumphing over hundreds of other teams. Crimson Esports, Wind And Rain, aAa Gaming (against All authority), Digital Chaos, Ghost Gaming, Ronin Esports, Miami Flamingos, and Corn Shuckers each secured a victory in the open qualifiers to earn themselves a place to compete in the Oracle Arena.
Team SoloMid, Team Liquid, Noble, Luminosity, Alliance, Cloud 9, FaZe Clan, Ninjas in Pyjamas, Penta Sports, Evil Geniuses, Tempo Storm, and Method were each invited to compete. These are teams with strong esports rosters in other fields, filled with professional players hailing from a variety of genres and communities, streamers and more – all looking to rise through the ranks and become renowned as the world's best professional PUBG players.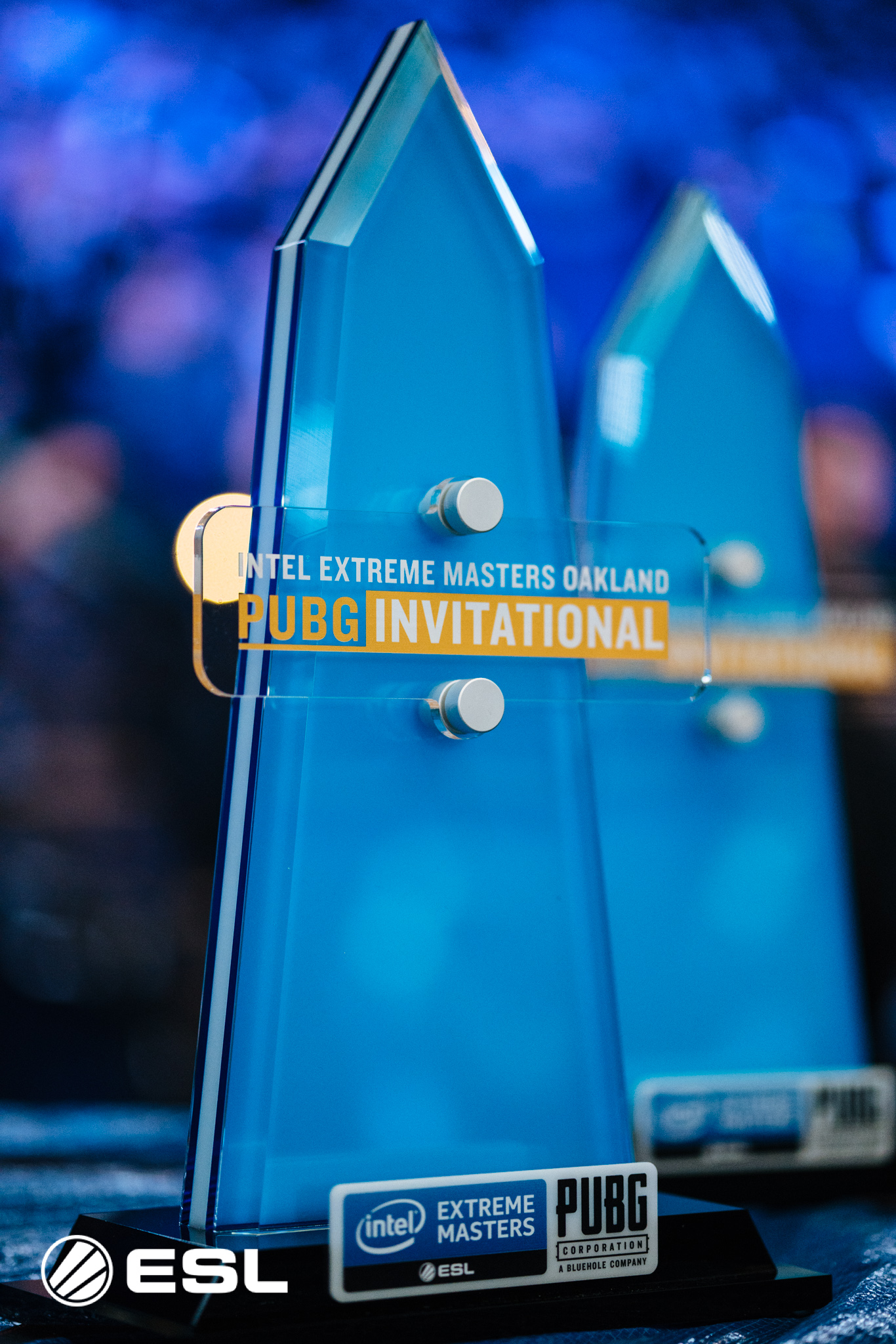 Rules and Format
Battle Royale is played with a unique ruleset in the world of esports. Little is changed in-game from a traditional pub game – clothing loot and red zones are disabled, and all maps were played in daylight (no fog or rain). These changes are the result of months of competitive testing and feedback; and are designed to slightly reduce the RNG factor and increase competitiveness and quality of life without removing variance entirely.
Several other changes were implemented since the last invitational at Gamescom. In Oakland, only 4-man squad matches were played – no solos or duos. Additionally, all matches were played in first person as the community has widely agreed that it is the most competitive game mode, forcing players to take risks and engage more frequently. And most importantly, the scoring system to determine the winner across 8 rounds was changed to further reward kills, with each confirmed kill adding an additional 10 points to your team's score on top of the bonus given for placement (a chicken dinner is worth 300 points!)
The prize breakdown is as follows:
1st place: $60,000 ($15,000 per player)
2nd place: $45,000 ($11,250 per player)
3rd place: $30,000 ($7,500 per player)
4th place: $20,000 ($5,000 per player)
5th place: $15,000 ($3,750 per player)
6th place: $12,000 ($3,000 per player)
7th place: $10,000 ($2,500 per player)
8th place: $8,000 ($2,000 per player)
Matches were spread across two days, with four matches played on each. At the end of the final match, the team with the highest score wins the PUBG Invitational at IEM Oakland and the $60,000 first place prize. We saw some intense matches, clutch plays and explosive competition. Let's recap the matches!
Day One
All eyes were on the invited teams as many of them consisted of familiar faces. Vehicles were at the core of many team's strategies and for some it paid off. For others, they were tombs on wheels – in the first match, aAa eliminated FaZe clan by laying into their UAZ and destroying the vehicle while they were in transit. This became a recurring theme for the rest of the weekend as teams employed vehicles as mobile cover, with the traditional counter strategy being to blow the vehicle up with bullets and grenades, potentially killing any players standing next to it.
No one team dominated every match, but many stood above the rest. Teams tended to drop in the same areas frequently, with TSM dropping in North Georgopol and FaZe headed to Mylta Power to kick off every match. Penta Sports, one of the favorites of the tournament finished day one in last place, and while Digital Chaos was able to take the first map. In the end it, was TSM who topped the leaderboards after day one showing that the most important thing in professional PUBG, as with any other esport is: Consistency.
One of the keys to their performances was using every trick in the book to their advantage – be it vehicles, terrain, or even the tactical use of smoke grenades to cover themselves as they cross an open field to get into the fight in the final circles.
Round #4 goes in @TeamSoloMid's favor as @TSMSmaK and @TSM_aimPR close out the day with a chicken dinner! #IEM pic.twitter.com/YGcR3b29mn

— ESL PUBG (@ESLPUBG) November 19, 2017
aAa, one of the eight teams to earn an invitation through the online qualifiers impressed everyone on day one with their dominant showing. Despite not being able to win any of the matches, they closed out the day just 105 points shy of 1st place with consistently high finishes and 21 kills to pad their score. Method Esports was just 30 points shy of first place and lead with the most kills, but with the scoring system in place at IEM Oakland all teams still stand to gain a significant lead in day 2 and take home the prize.
Here are the top 8 standings after the first day:
| | | | | |
| --- | --- | --- | --- | --- |
| Rank | Team | Players | Score | Kills |
| 1 | TSM | aimPR, SmaK, Viss, BreaK | 865 | 20 |
| 2 | Method | LaytoN, EnergeticTurtle, AndyPyro, Aitzy | 835 | 25 |
| 3 | aAa | mOnKeY, oraxehaze, Shadow1K, Shiv | 760 | 21 |
| 4 | Digital Chaos | FaustoCoppi, AwieN, Jokkizz, EwanHC | 675 | 20 |
| 5 | FaZe Clan | Jembty, Fuzzface, Haxete, mxey | 620 | 18 |
| 6 | Corn Shuckers | EnV, Zanpah, PaaaRADOX, eLusive | 620 | 16 |
| 7 | Tempo Storm | sambty, Meluke, Valliate, YaBoiDre | 620 | 8 |
| 8 | Ninjas in Pajamas | Borg, ekkz, Sweaterr, Crunch | 605 | 11 |
Day Two
While no team was guaranteed out of the money at the start of day 2, many teams had an uphill battle to climb. With only four matches remaining, all 20 teams still had to fight to make top 8 and be in the money.
TSM continued to land in North Georgopol, with teams like Penta Sports looking to actively hunt teams down early on to close the gap. Team Liquid turned up the heat, with Scoom holding the line against an advancing Tempo Storm squad and closing out the first match of the day with 8 kills – eliminating two full squads' worth of players single-handedly!
The later the day went, less teams had the potential to close the score gap and instead turned to gatekeeping other teams. Grenades were especially lethal on day 2, with Noble taking out three out of four members of Evil Geniuses with one of the best KOBE tosses in tournament play to date.
Godlike nades coming from @NobleGG!!! #IEM pic.twitter.com/SBTgNmcLMZ

— ESL PUBG (@ESLPUBG) November 19, 2017
Final teams were never always quite the same. After Liquid took down Tempo Storm in game 5, aAa went up against FaZe at the end of game 6, pinning them inside a warehouse south of Mylta Power where they secured their first win with an unbreakable firing line pointed at the only exit. In game 7, DC were able to secure the second and only repeat win against Noble with a total of 16 kills by holding their hay bales and controlling their sprays in the fields south of the Georgopol hospital.
The final round of the tournament came down to Cloud 9 vs Ronin Esports, just west of Severny. While Cloud9's Chappie gave it his all to clutch out the win against Ronin's UAZ forward operating base, he was unable to kill Minifridgejr before he revived notadeveloper and the two made short work of his solo advance.
However, after 8 brutal rounds, FaZe held fourth place with 39 kills, 1355 points (and no chicken dinner!), closely following open bracket qualifiers Ghost Gaming with 1375 points, whom were just one kill shy of Tempo Storm who ended the tournament with 1385 points.
But after all was said and done, it was the open bracket gladiators against All authority that ended with the highest score despite placing 6th in the final round, with a dominant 1620 points and 38 kills throughout the tournament.
Here are the final standings:
| | | | | | |
| --- | --- | --- | --- | --- | --- |
| Rank | Team | Players | Score | Kills | Prize |
| 1 | aAa | mOnKeY, oraxehaze, Shadow1K, Shiv | 1620 | 38 | $60,000 |
| 2 | Tempo Storm | sambty, Meluke, Valliate, YaBoiDre | 1385 | 28 | $45,000 |
| 3 | Ghost Gaming | Miccoy, Definelegit, Austin, Pr0phie | 1375 | 31 | $30,000 |
| 4 | FaZe Clan | Jembty, Fuzzface, Haxete, mxey | 1355 | 39 | $20,000 |
| 5 | Digital Chaos | FaustoCoppi, AwieN, Jokkizz, EwanHC | 1300 | 35 | $15,000 |
| 6 | TSM | TSM_aimPR, TSM_SmaK, TSM_Viss, TSM_Break | 1285 | 31 | $12,000 |
| 7 | Method | LaytoN, EnergeticTurtle, AndyPyro, Aitzy | 1195 | 38 | $10,000 |
| 8 | Cloud 9 | C9_Frolicer, C9_Frexs, C9_Chappie, C9_SOLIDFPS | 1195 | 31 | $8,000 |
Congratulations to the finalists and to against All authority, the champions of the IEM Oakland 2017 PUBG Invitational!
Be sure to follow ESL PUBG on Twitter and Facebook for coverage, clips, announcements and more. See you next time!